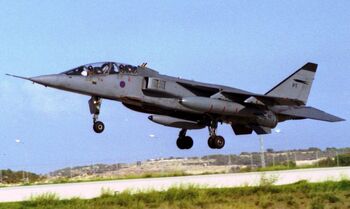 The SEPECAT Jaguar is an Anglo-French ground attack aircraft built as a joint venture between the British Aircraft Corporation and Breguet.
Description
[
]
Originally intended to fulfill a 1965 requirement for a supersonic light ground attack and training aircraft, the design was amended to include reconnaissance and nuclear strike capability.[1]

Initially built for the French and British air forces, the Jaguar also had some success in export markets with the air forces of India and Oman among others. Britain and France retired the Jaguar in 2007 and 2005 respectively while India and the Oman continue to use theirs.
History
[
]
Development of the Jaguar began in May 1966, with the establishment of SEPECAT.[N 1] The first of the eight prototypes was a French built two seater. Fitted with a shorter fin than later machines, this made it's initial flight from Istres on 8 September 1968.[2]
Variants
[
]
Jaguar A
[
]
Jaguar B (T.Mk 2/2A)
[
]
Jaguar E
[
]
Jaguar M
[
]
M05: Sole carrier compatible prototype, registration F-ZWRJ. First flown 14 November 1969.
Jaguar S (GR.Mk1/1A)
[
]
S06: First British single seat prototype, serial XW560. First flown 12 October 1969. Used for stores and gunnery trials. Destroyed in a ground accident
S07: Second British single seat prototype, serial XW563. First flown 12 June 1970
B08: Sole British two seat prototype, serial XW566. First flown 30 August 1970.
Specifications
[
]
Powerplant: Two Rolls-Royce/Turbomeca Adour Mk 102 turbofan engines
Top speed: 1,699 km/h
Range: 3,524 km
Ceiling: 14,000 m
Crew: 1
Empty weight: 7,000 kg
Length: 16.83 m
Height: 4.89 m
Wingspan: 8.68 m
Armament: Two 30 mm cannons, five hardpoints capable of carrying missiles, rockets, bombs, and other ordnance.
References
[
]
Notes
[
]
↑ Societe Europenne de Production de L'Avion d'Ecole de Combat et d'Appui Tactique (European Production Company for the Combat Training and Tactical Support Aircraft)
Sources
[
]