The SPAD S.XIII was a French biplane fighter aircraft, that was first used in 1917 during World War I.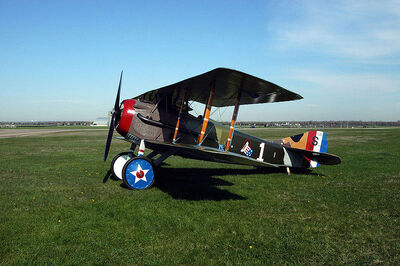 Development
[
]
The predecessors of the SPAD S.XIII were the Nieuport fighters and the SPAD S.VII, which entered service in September 1916. Those aircraft were inferior to the German Albatros fighters, so that the famous French fighter pilot Goerges Guynemer wanted more advanced airplanes for the War.
Chief-engineer Louis Béchereau designed after that a cannon armed S.XII and the S.XIII. This biplane was a related development of the SPAD S.VII. Both aircraft had many design similarities. All four wings had the same wingspan, and the fuselage was made of a mainly wooden construction with fabric covering.
Louis Béchereau also had upgraded the SPAD S.XIII with a greater wingspan, enlarged stabilizators and a more aerodynamical fuselage. The SPAD S.XIII was also equipped with a second machine gun and a geared Hispano-Suiza 8B engine, which was more powerful than the first one. Later the SPAD S.XIII received an even more powerful Hispano-Suiza 8BEc engine, which greatly improved the flight performance of the aircraft. Now the SPAD S.XIII was faster than the British Sopwith Camel and the German Fokker D.VII. Because of its good static stability it achieved excellent nose dive performance. However it had bad low speed manoeuvrability and was difficult to land for inexperienced pilots.