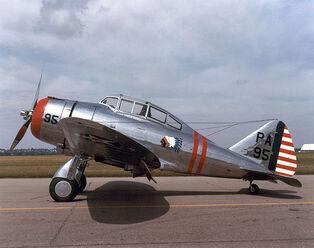 The Seversky P-35 was an American fighter aircraft that was first flown on 15 August 1935 and which entered service in 1937. The P-35 was the first single seat fighter operated by the US Army Air Corps to be equipped with an retractable landing gear and a closed canopy.
Development 
[
]
The P-35 has its origins in the Seversky SEV-3 from 1933, which was modified into the BT-8 trainer aircraft. The BT-8 was replaced by the BT-9 quickly, as it was clearly not capable enough.
So Seversky's chief designer Alexander Kartveli developed a twin seat derivative of the SEV-3, called SEV-2XP. The competed in an 1936 USAAC competition with other single seat aircraft, however, after a fatal crash, a single seat variant, called SEV-1XP was sent into the competition and defeated the Curtiss Model 75 Hawk.
The USAAC ordered 77 aircraft, which were renamed to P-35. But 210 Curtiss Model 75s were ordered as well due to them being cheaper. The P-35 entered service in 1937.
Gallery
[
]