The
Shenyang J-11
( NATO codename:
"Flanker-B+"
), is a twin engine, single seat Fighter Aircraft of the
People´s Liberation Army Air Force
, it is used as an Air-Superiority Fighter. At first it was only a under license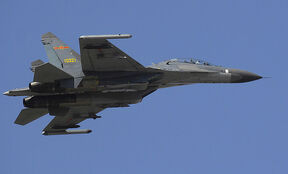 produced variant of the Su-27SK Flanker, but the new Shenyang J-11B is a completely new developed aircraft.
In the year 1995 a production agreement for 200 Soviet Su-27SK was secured by China, but those Fighters must be equipped with Russian avionics and engines, which had to be built in Russia. China was now able to built 95 J-11 aircraft, while 105 were planned to be produced. As in 2004 development for a own variant the J-11B started, Russia cancelled the arrangement in 2006. The China had started developing the J-11B because the conventional J-11 is not able to carry modern weapons and that it would not meet all the PLAAF´s requirements. China states that the J-11B is a 90 % new Chinese design.
Like it´s Sukhoi equal, the Su-27 Flanker it is a direct competitor to other Fourth Generation Jet Fighters, like the Lockheed Martin F-16 Fighting Falcon or the F-15 Eagle.
Community content is available under
CC-BY-SA
unless otherwise noted.