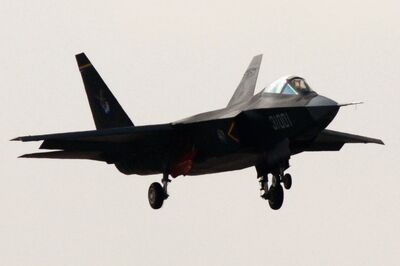 The Shenyang J-31 is a fifth generation stealth fighter of Chinese origin, still undergoing an early development phase. It is developed by Shenyang Aircraft Corporation. According to early speculations, the J-31 may be part of the J-XX program of the People's Liberation Army Air Force. The first flight took place on 31st October 2012.
Designation
[
]
The aircraft's designation "J-31" has never been officially proven and was based on the number "31001" on the fuselage of the plane. Alternative designations could be "J-21" or "F60".
Design
[
]
Shortly before the J-31 was officially unveiled, first photographs of the aircraft have come up on the internet, in September 2012. Unlike the Chengdu J-20, the J-31 doesn't have canards. Additionally, the J-31 shows many similarities with the American F-22 Raptor and F-35 Lightning II and it could be considered as a "twin engine F-35C": the vertical stabilizators look very familiar with the ones used on F-35 and F-22. Interestingly, it features a "Divertless Supersonic Inlet", similar to that on the F-35. Furthermore, the frontal section shares many features with the one of the F-22. The J-31 also features an internal weapons bay, in order to improve stealthiness and aerodynamics. In comparison to the first Chinese Fifth Generation fighter, the Chengdu J-20, it shows to be much smaller in size.
According to new information, production of a more refined, second prototype has already begun. The information is based on what was displayed at Zhuhai Airshow 2016.[1]
Features of the new prototype include: 
Possibility of a Distributed Aperture System (DAS)
Various options regarding internal and external armamement
Electro-optical Target System
In contrast to early beliefs, the new prototype is now featuring a possible Helmet Mounted Display
Possible AESA radar
Early problems
[
]
After a first public display at Zhuhai Airshow, the J-31 design revealed problems and flaws in terms of aerodynamics. To be more specific, the aircraft tended to lose a lot of energy while manoeuvring, forcing the pilot to use afterburners in order to keep the aircraft under control. [2]
Role
[
]
There are two possibilities, the first one is that the J-31 was designed as a direct competitor to the Chengdu J-20; the second one is that it was designed as a complement to the J-20. With the J-20 on the one hand, being an air-superiority fighter (comparable to the American F-22 Raptor) and the J-31 on the other hand, as a smaller light-weight multirole fighter (comparable to the American F-35 Lightning II).
General Characteristics
[
]
Crew: 1 (pilot)
Length: 16.9 m (55 ft 5 in)
Wingspan: 11.5 m (37 ft 9 in)
Height: 4.8 m (15 ft 9 in)
Wing area: 40 m2 (430 sq ft)
Powerplant: 2 × Klimov RD-93 afterburning Turbofans (Presumably domestic engines such as the Guizhou WS-13 would be used for production aircraft.)
Maximum speed: Mach 1.8
Combat range: 1,250 km (777 mi; 675 nmi) internal fuel (2000 km one refuel)
Ferry range: 4,000 km (2,485 mi; 2,160 nmi)
References
[
]
<references>