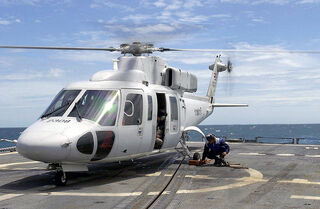 The Sikorsky S-76 is a medium-sized utility helicopter used for civilian, military, and experimental purposes.
It is notably used as a transport by the British Royal Family.[1]
Design
[
]
The S-76 has a four-blade articulated main rotor and two turboshaft engines located above the cabin. The fuselage is mixed metal and composites with a fiberglass nose and an all-glass cockpit.
Two crew members (including 1 or 2 pilots) can sit in the cockpit. The cabin can hold up to 12 passengers in 3 rows of 4, or 2 patients on stretchers or isolettes in an air ambulance configuration.[2] It has sliding doors large enough for easily loading patients and medical equipment and is capable of carrying up to 2 patients on stretchers.
Variants
[
]
The AUH-76 is an S-76 variant used as an armed military transport and medevac.
The H-76 Eagle was a military and naval variant using technology based on the UH-60A Black Hawk. It was a utility helicopter intended to act either as a troop transport, medevac, and tank destroyer, and had special survivability specs built in such as crew protective armor, red

undant systems, and crash-worthy fuel tanks.[3]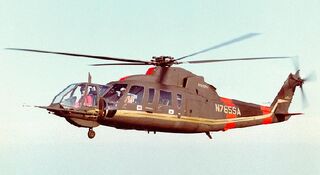 The S-76 SHADOW (Sikorsky Helicopter Advance Demonstrator of Operators Workload) was an experimental variant that had an advanced cockpit design for a single pilot grafted to the nose. Sensors fed data to the pilot through HUD. Due to safety concerns, this cockpit was modified to accommodate two pilots and later became the basis for the RAH-66 Comanche cockpit.
Details
[
]
Crew: 2
Capacity: 12-13 (seats)
Length: 16 m
Height: 4.42 m
Width: 3 m
Main rotor diameter: 13.41 m
Powerplant: 2 x Turbomeca Arriel 2S2 turboshaft
Maximum/Cruising speed: 287 km/h
Operating range: 761 km
References
[
]