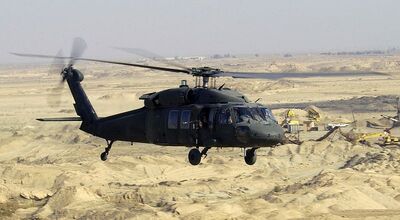 The UH-60 Black Hawk is a medium weight transport helicopter, that is built since the year 1978 in many different variants, mainly for military use. The Black Hawk was developed by Sikorsky Aircraft Corporation.
Development
[
]
At the beginning of the year 1970, the United States Army was searching for a replacement for the Bell IH-1 Iroquois Multirole helicopter; despite that it proved success during the Vietnam War, it had disadvantages, like too low range and payload.
Because of that, the US Army initiated a competition for a new medium weight tactical transport helicopter. The competition was won by the YUH-60 by Sikorsky on 23rd December 1976, which prevailed against the YUH-61 by Boeing. The first flight of the prototype (three were made), took place on 17th October 1974, it was flown by James Wright and John Dixson. The helicopter was modified and named UH-60A Black Hawk, before it could enter production (because of problematic vibrations on the main rotor). The US Navy ordered the SH-60B at the beginning of 1978, to be their new naval transport helicopter. The first definitive UH-60A was first flown on 17th October 1978 and was delivered in June 1979 to the 101st Airborne Division. From 1978 to 1989, 980 of these helicopters were delivered to the US Army, until they were replaced by the UH-60L successor variant of the Black Hawk.
Historical Data
[
]
It entered service with the U.S. Army in 1979 and was first used in combat during the Invasion of Grenada in 1983.
In 1989, UH-60 Black Hawks were used in the Invasion of Panama.
In 1991, during the Gulf War, the UH-60 participated in the largest air assault mission in U.S. Army history with over 300 helicopters involved in the assault.
In 1993, Black Hawks were used prominently in the Assault on Mogadishu.
In 2003, the U.S. Army used UH-60s in coordination with other helicopters to conduct air assault and support missions during the 2003 Invasion of Iraq.
Design
[
]
The UH-60 Black Hawk features a four-blade fully articulated main rotor in addition to a canted four-blade tail rotor.
Specifications
[
]
Crew: 2 flight crew, 2 crew chiefs/gunners
Capacity: 14 troops or 6 medical stretchers
Length: 19.76m
Height: 5.13m
Width: 2.36m
Main Rotor Diameter: 16.36m
Powerplant: 2 General Electric T700-GE-701C turboshaft engines
Maximum Speed: 295 - 357km/h
Armament
[
]
Guns
[
]
2 machine guns, miniguns, or gatling guns.
Hardpoints
[
]
4 hardpoints, 2 per wing, can carry a combination of Hydra rockets, Hellfire missiles, or M230 autogun pods.
Mines
[
]
The UH-60 can be equipped with an anti-tank minefield dispersal system (in the past, anti-personnel mines were used as well).