The Sopwith T.F.2[N 1] Salamander was a British ground attack variant of the Sopwith Snipe.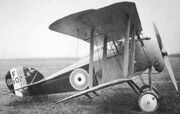 The front of the plane was armored to protect the pilot, engine, and fuel lines from taking damage during low level attacks. It was ordered by the Royal Air Force in 1918, but the war ended before it could be operationally used.
History
[
]
Development of the Salamander began in January 1918, when the Sopwith company was issued with a requirement for an armoured single seat ground attack aircraft. The following month the company flew a Sopwith Camel fitted with armour protection and a triple gun armament, which was designated T.F.1 and could be rapidly made available by modifying existing airframes. However, the requirement specified use of the 230 hp Bentley B.R.2 9 cylinder rotary engine, prompting Sopwith to discard the T.F.1 in favour of the Snipe derived T,F,2.. [1]
The first of three prototypes flew on 27th April 1918, resulting in large orders for the type being placed with Sopwith, Air Navigation Co, Glendower Aircraft, National Aircraft, Palladium Autocars and Wolselley Motors.[2] There were 37 T.F.2s on RAF charge by 31st October 1918, and production continued until mid 1919. A total of 419 examples were delivered – 334 by Sopwith and 85 by other contractors – only for the type to be
rejected for squadron service in favour of the Snipe.[3]
Fuselage Structure
[
]
The forward portion of the fuselage was a box made from armour plate, consisting of an 11 mm base plate, with 6 mm plates on each side, an 8 mm plate forming the engine backplate at the front, and a 10 mm plate at the rear.[N 2]
Details
[
]
NB: All except Service Ceiling from Complete Fighters.[3]
Length: 19 ft 6 in (5.94 m)
Wingspan: (Balanced upper ailerons) 31 ft 2 5/8 in (9.52 m)
Height: 9 ft 4 in (2.84 m)
Empty weight: 1,844 lb (836 kg)
Loaded weight: 2,512 lb (1,139 kg)
Maximum Speed: 125 mph (201 km/h) at 3,000ft (915 m)
Time to 5,000 ft (1,525 m): 6 minutes 30 seconds
Endurance: 1 hour 30 minutes
Service Ceiling: 13,000 ft
Trivia:
[
]
70 Salamanders were fitted with the Snipe's wings instead of the designated wing design for the Salamander, making them unsafe.
As with the above note, the armor sections tended to distort when in use.
The Salamander was used for disruptive camoflage trials in 1919.
Gallery
[
]
References
[
]
Notes
[
]
↑

T.F. Indicates a Trench Fighter aircraft.
Sources
[
]