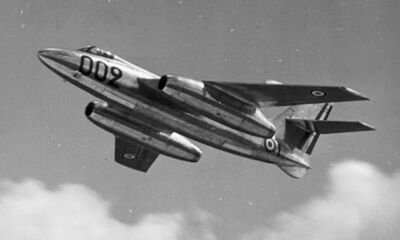 The Sud Aviation S.O. 4050 Vautour II was a French twin-engine fighter-bomber used during the Cold War.
History
[
]
The Vautour (Vulture) was designed in response to a 1951 requirement set by the French Air Force for a multipurpose attack aircraft. The first prototype flew in Vantour C [N 1] configuration on October 16th, 1952, originally with 5,511 lb (24.51 kN) Atar 101B engines, which were eventually replaced with 6,170lb (27.45 kN) 101Cs in 1953, when the aircraft also received four 30mm DEFA cannon and an interception radar from the USA via the Mutual Assistance Program. The second prototype initially flew on 16th December 1953 with Atar 101Cs in Vantour A [N 2] configuration, subsequently being fitted with 6,611 lb (29.41 kN) 101Ds in 1954. A third prototype, completed in Vantour B [N 3] configuration, made it's first flight using 8,000 lb (35.59 kN) Armstrong Siddeley Sapphire on 5th December 1954. [1]
The prototypes were followed by six pre-production aircraft, numbered 04 to 09, ordered in 1953 with Atar 101Ds. Aircraft 04 was a bomber, and was fitted with afterburning engines at one time. Aircraft 05 and 07 were single seat Vautour As, while aircraft 06, 08 and 09 were Vautour N fighters. The last of these became

the fastest example, with a pair of 10,000 lb (44.56 kN) Rolls Royce Avon RA.28 propelling it to 720 mph (1,160 km/h) at low level, compared to 686 mph (1,100 km/h) of other versions.[1]
The Vantour entered service in 1958 with both the French Air Force and the Israeli Air Force. The Vautour never saw combat with France, as it was considered obsolete and underpowered shortly after its introduction, with most of the aircraft being retired by 1979. Israel's Vautours were used in the Six Day War and the War of Attrition with Egypt, and were generally well regarded. They were retired in 1971, replaced by the A-4 Skyhawk. A total of 149 were produced.
Specifications
[
]
Powerplant: two SNECMA Atar 101E-3 turbojet engines
Maximum speed: 687 mph
Range: 3,375 miles
Ceiling: 50,000 feet
Crew: 1
Empty weight: 22,000 lbs
Length: 51 ft 1 in
Height: 16 ft 2.5 in
Wingspan: 49 ft 6.5 in
Armament: four 30 mm cannons, internal bomb bay capable of carrying up to 6,000 lbs of ordnance/equipment, four underwing pylons capable of carrying a total of up to 8,800 lbs of ordnance/equipment
References
[
]
Notes
[
]
↑

Two seat radar equipped night/all weather fighter

↑

Single seat close support aircraft

↑

Two seat glazed nose level bomber
Sources
[
]