The Sukhoi Su-9 was a single seat, Soviet fighter aircraft, that was developed in the 1950 as a Interceptor aircraft. The design of the Su-9 has many similarities with the MiG-21. That's the reason why it received the NATO codename "Fishpot" (the MiG-21 has the NATO codename "Fishbed").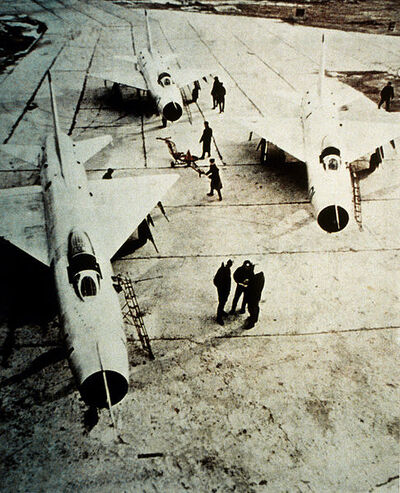 Development
[
]
The Su-9 was developed from the test aircraft T-3, the prototype of the Su-9 was the T-43. Many design features are based on the Su-7B, to rationalize development. The Su-9 was designed to be an Interceptor aircraft and to be used against enemy bombers in the whole Soviet Union. Because of not enough ground radars, the Su-9 had to have a radar with a high range, unlike the similar but smaller MiG-21 Fishbed, so that it's electronic equipment was very extensive, even if the range is not very high. Because of the combat philosophy in this time, machine guns weren't included and the only armament the Su-9 had were missiles.
Production begun in 1959, in the year 1967 it was replaced by the Su-11. The two main variants were the Su-9B interceptor and the double seat Su-9U trainer aircraft.
The Su-9 wasn't sold on export market, the last units operated in the year 1980 in the Soviet Union. It was called Karandsh (meaning "pencil") by the pilots.
The Sukhoi Su-11 was a modernized all-weather derivative of the Su-9. But unlike the Su-9, it was only built in small numbers.