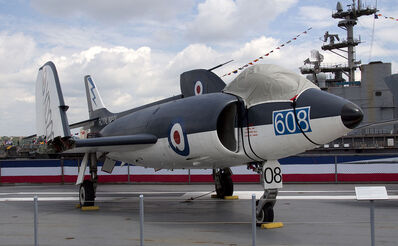 The Supermarine Scimitar was a British carrier-based strike fighter. 
The Scimitar was originally designed from Supermarine's undercarriage-less Type 505 concept. It was redeveloped in 1948 to feature a nosewheel undercarriage after the first design came under question by the Admiralty, and became the Type 508. Three of these were ordered in late 1947, with the first of them making its maiden flight on 31 August 1951 and performing carrier trials in 1952 on board the HMS Eagle. The second prototype had many notable differences which led to it being redesignated the Type 529, and first flew on 29 August 1952. The third prototype was the Type 525, which featured swept-back wings and first flew on 27 April 1954. The Scimitar's design was mainly developed from this example, and another prototype designated Type 544 was built based on it. The Royal Navy ordered 100 of these hoping they could be used as low-level nuclear strike aircraft in addition to fighters. The Type 544 first flew on 19 January 1956, and after several modifications, started being produced as the Scimitar in 1957. 
When the Scimitar first entered service in 1957, the Royal Navy mostly used small aircraft carriers, which made operating the relatively large aircraft difficult, and led to several landing accidents. Despite never seeing combat, over half of the 76 Scimitars built were lost, and the aircraft required record amounts of maintenance hours. It also quickly lost its usefulness, as its role as fighter was covered the de Havilland Sea Vixen and strike aircraft by the Blackburn Buccaneer. Some were used as refueling aircraft, but most Scimitars were retired by 1970.

Powerplant: Two Rolls-Royce Avon 202 turbojet engines
Top speed: 1,185 km/h
Range: 2,289 km
Ceiling: 14,000 m
Crew: 1
Empty weight: 10,869 kg
Length: 16.84 m
Height: 5.28 m
Wingspan: 11.33 m
Armament: Four 30 mm ADEN cannons, four hardpoints capable of carrying bombs (4 conventional or 1 nuclear), missiles, or rockets.
Community content is available under
CC-BY-SA
unless otherwise noted.