The Supermarine Spitfire is a British fighter that was used in World War 2. It is a well known aircraft in history, as it fought, and had much glory and praise, during the Battle of Britian. It was first introduced into service with 19 Squadron of the RAF in 1938, just before the Second World War began.
Details
[
]
(Depending on version)
Length: 29 ft 11 in to 34 ft 4 in
Wingspan: 32 ft 2 in to 40 ft 2 in
Maximum Speed: 355 mph to 451 mph
Operational Variants
[
]
Griffon Seriers Spitfires - Spitfires with larger, more powerful Griffon engines
Trainer Conversions - Spitfires modified to have two seats
Seafire- Naval form
Spitfire[1]

[

]
Mk I Initial fighter version. Merlin III. Equipped with eight 0.303in machine guns (Mk IA) or two 20mm cannon and for 0.303in maching guns (Mk IB).
Mk II Improved Mk I. Merlin XII. Armanment as for Mk I.
PR Mk III Reconnisance aircraft. Mk I airframe with guns and radio removed. Extra fuel tankage. Camera in Starboard wing.
PR Mk IV Rerconnisance aircraft. Merlin 45. Mk IA with leading edge fuel tanks. No armament. Three F.24 camaras - two vertical, one oblique - in fuselage.
Mk V Fighter/Fighter-bomber. Merlin 45, 46, 50, 50A, 55 or 56. Armament; Mk VA as Mk IA. Mk VB as Mk IB. MK VC fitted with Universal wing - normal load as Mk IB. Entered service Summer 1941

First version to use tropical equipment and drop tanks, and the first to operate outside the UK. One modified as fighter floatplane. Some fitted with clipped wings, reducing wingspan to 32ft 7in.

Mk VI High Altitude fighter. Merlin 47. Mk VB airframe fitted with preassure cabin and extended wing tips, increasing wingspan to 40ft 2in.
Seafire

[

]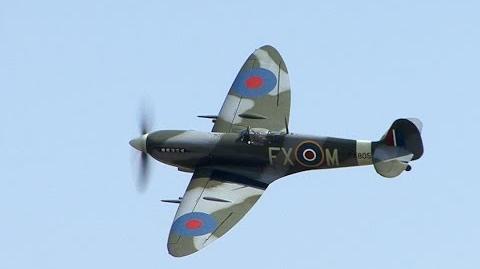 Gallery
[
]
References
[
]
↑

Bridgeman, Leonard. 1998. Pages 139-140.
Bibliography
[
]
Bridgeman, Leonard. Jane's All The World's Aircraft 1945/46 - Reprinted as Jane's Fighting Aircraft of World War II. Tiger Books. 1998. ISBN 1-85501-004-9.