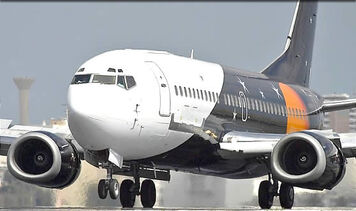 Tricycle landing gear is the most common landing gear scheme in the current days, it consists in two sets of big wheels under the wings and a small wheel in the nose, unlike conventional landing gear, the small wheel in tricycle can retract.
Advantages
Edit
The straight angle allows a complete visibility of the ground
In some modern commercial aircraft there's a fourth set of wheels in the center between the wing ones.
Some other aircraft like Tupolev TU-154 don't retract the rear gear under the fuselage, but in special compartiments in the middle of the wings.
Another light aircraft like Cessna or De Havilland Canada don't retract their landing gear.
Commercial Airplanes
Edit
Military aircraft
Edit
McDonnell Douglas F-18 Hornet
Community content is available under
CC-BY-SA
unless otherwise noted.