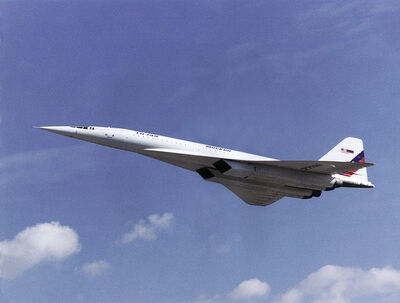 The Tupolev Tu-144 (NATO codename: "Charger"; nicknamed "Concordski") was a supersonic transport aircraft. It was the first supersonic transport (SST) and remains one of only two in the world to enter commercial service (along with the Aerospatiale-BAC Concorde).
A total of 16 airworthy Tu-144 aircraft were built. The last commercial passenger flight of the Tu-144 was in 1978. Production ceased in 1984.
Development of the Tu-144 was ordered

in July 1963 - six months after the go ahead for it's Anglo-French rival. As well as close study of various aspects of Concorde - including a number of failed attempts to collect information through espionage[N 1] - the development programme utilised the A-144, a special variant of the MiG-21 fitted with a scaled version of the wing intended for the Tu-144.[1]
Capacity: 70-140 passengers
Powerplant: 4 x Kolesov RD-36-51 afterburning turbojets
Loaded weight: 120,000 kg
Max. takeoff weight: 180,000 kg
Cruise speed: Mach 2.15 (2,285km/h)
Service ceiling: 20,000 meters
↑

This resulted in the chief of Aeroflot's Paris office being arrested with a set of Concorde engineering drawings in his briefcase, and a plot to acquire tyre samples from Le Bourget, which was foiled when Aerospatiale scientists substituted an exotic compound that had no use in tyres.
↑

World Aircraft Information Files Aviation Partwork. Midsummer Books Ltd. File 554 Sheet 1 )World Civil Aircraft:Tupolev Tu-144 'Charger' - Supersonic Soviet)
Community content is available under
CC-BY-SA
unless otherwise noted.