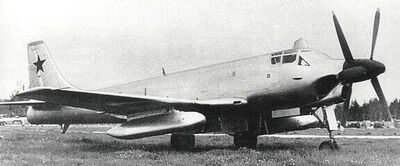 The Tupolev Tu-91 (Russian: Туполев Ту-91; NATO codename:"Boot") was a Soviet naval attack aircraft, developed at the beginning of the 1950´s for carrier service.
Tupolev OKB was chosen to develop this aircraft, while all other Russian manufacturers had enough work with their own projects. With the help of former Sukhoi engineers and workers a low-winged monoplane with upswept wings and retractable undercarriage resulted. The first used engine was a three-bladed contra-rotating NK-7 engine. The fuselage was spindle-shaped, that´s the reason for it´s nicknames Byk (Бык, Bull) or Botshka (Бочка, ton).
The first flight took place in the year 1955, flown by D. Syusin. During testing the Tu-91 received a wing fence on each wing. The Tu-91 was cancelled after the death of Joseph Stalin, after it was ridiculed by Nikita Khrushchev.