VL Tuisku (Snowstorm) is a Finnish two-seat multipurpose military biplane developed by the Valtion lentokonetehdas (VL, State Aircraft Factory) in the 1930s. It was used by the Finnish Air Force mainly as a trainer, but also for liaison and aerial photography duties from 1935 to 1950.
Development
Edit
The Tuisku's development work commenced in 1932 from VL's own initiative. The initial development work was made during spare time, since VL was troubled at the time. The chief designer was Arvo Ylinen. In May 1933 the Finnish Air Force ordered a prototype to be built to maintain indigenous aircraft production capabilities. VL wanted to equip the Tuisku with a 240 hp Lycoming R-680 engine, but the FAF ordered the equally powerful but heavier Armstrong Siddeley Lynx IV C to be used.
The prototype, TU-149, first flew on 10 January 1934, piloted by Uuno E. Mäkelä. TU-149 was regarded as satisfactory, apart from minor flaws such as 91 kgs of overweight (largely due to the engine) and annoying vibration that also caused structural fatigue. On 29 January the Tuisku's wings shattered due to flutter during a dive test, and Mäkelä had to bail out.
A second, improved prototype, TU-150, was ordered in May 1934 and flew in the turn of the year. It was equipped with the Lycoming R-680-BA engine VL had recommended all along. The Lycoming removed the annoying vibration, but the FAF insisted on using the Armstrong Siddeley engine, so the vibration problem was solved by using novel elastic engine mounts. It was the first time the elastic mounting was used in Scandinavia.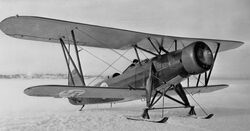 The FAF ordered 12 Tuiskus in February 1935. Eight of them were equipped with wheels and four with floats. Secondary school graduates also bought one Tuisku for the FAF, and all 13 were completed by September 1936. 16 more were ordered in February 1936: 12 with wheels and four with floats. The production began in Suomenlinna, but was completed at VL's new factory in Tampere in July 1937.
In 1938 VL proposed a version with a Bristol Jupiter IV engine, mainly for use with pontoons. It was never built.
All Tuiskus were given wheels from November 1939 onwards. They were used by the Lentosotakoulu (Training Air Wing) as trainers and by replenishment squadrons in other roles. Five Tuiskus were retired after the Second World War, while 16 continued to serve as liaison aircraft, but by 1948 only two flyable examples were left. The final flight was officially made in late January 1950, but later there were some "illegal" flights. The final Tuiskus were deleted from the FAF inventory in December 1952.
11 Tuiskus were destroyed in accidents that killed 8 people. The ty
pe flew for about 52,000 hours.
Surviving example
Edit
Only one intact Tuisku survives to this day: TU-178 "Sokeri-Sirkku" is on display at the Finnish Aviation Museum in Vantaa. The museum also has the bare fuselage of TU-169.
Construction
Edit
The Tuisku has a welded steel tube fuselage and wooden wings, all covered with fabric.
Variants
Edit
Tuisku - The two prototypes.
Tuisku I - First production series, 13 built.
Tuisku II - Second production series, 16 built.
Tuisku/T - Armed version with a forward-firing machine gun, and another in the rear cockpit.
Tuisku/O - The dual-control pilot training version.
Specifications (Landplane)
Edit
Crew: 2
Length: 9,35 m (30 ft 8 in)
Upper wingspan: 12,10 m (39 ft 8 in)
Lower wingspan: 10,28 m (33ft 9 in)
Height: 3,26 m (10 ft 8 in)
Wing area: 33,65 m² (362.2 sq ft)
Airfoil: Clark Y.H.
Empty weight: 1,015 kg (2,238 lb)
Takeoff weight: 1,625 kg (3,583 lb)
Fuel capacity: 257 l (56.53 imp gal, 67,89 US gal)
Powerplant: 1 × Armstrong Siddeley Lynx IV C 7-cylinder radial; 240 hp (179 kW)
Maximum speed: 210 km/h (130 mph) (floatplane: 185 km/h, 115 mph)
Cruise speed: 170 km/h (110 mph)
Range: 955 km (593 mi) (floatplane: 930 km, 578 mi)
Endurance: 4 h 30 min
Service ceiling: 4,750 m (15,000 ft)
Climb to 3,000 m: 19 min
Armament: 1 × 0.303 in forward-firing Vickers machine gun, 1 × 0.30 in L-33/36 machine gun in the rear cockpit (Tuisku/T), 4 × 12,5–25 kg bombs
Community content is available under
CC-BY-SA
unless otherwise noted.