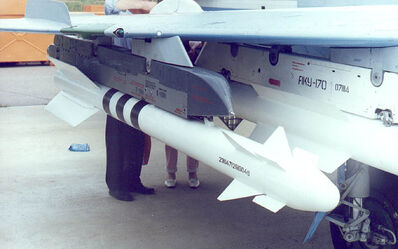 The Vympel R-73 (NATO codename: AA-11 Archer) is a Soviet short-range air-to-air missile, that is used since the year 1982 by the Soviet/Russian Air Force.
Development
[
]
The R-73 was developed by Vympel NPO (Russian:Вымпел) to succeed the aging R-60 AAM. Development of the missile began in the late 1970s. First R-73 missiles were delivered in the year 1982 to the Soviet Air Force. Within the next years, the missile was exported to over 20 countries.
Design
[
]
The missile was designed to be able to take out very manoeuvrable targets and it has a range of up to 40 km. To boost the R-73's manoeuvrability significantly, it was equipped with three-dimensional thrust vector control and it was designed to sustain G-forces of up to 50g, while a fighter aircraft can sustain a maximum of 9-10g, because of human limitation.
The R-73 has a seeker field of vision of up to 75 degrees and in combination with the Shchel-4UM helmet mounted sight, the R-73M is able to lock on to targets 60 degrees off-boresight.
It is being said that the R-73 is superior to most of its Western counterparts (like the AIM-9L Sidewinder, the AIM-132 ASRAAM, the Matura Mica and the Matura Magic 2), in terms of manoeuvrability, range and accuracy. The R-73 was considered as the best short-range air-to-air missile, until the introduction of the AIM-9X and the AIM-2000 IRIS-T, which are considered superior.