This page is about the helicopter, for the fighter with the same name visit: Westland Whirlwind (fighter)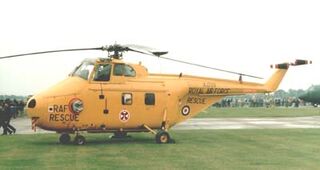 The Westland Whirlwind helicopter was a British licence-built version of the U.S. Sikorsky S-55/H-19 Chickasaw. It primarily served with the Royal Navy's Fleet Air Arm in anti-submarine and search and rescue roles.
Design and development
[
]
In 1950, Westland Aircraft, already building the American Sikorsky S-51 under license as the Westland Dragonfly, purchased the rights to manufacture and sell Sikorsky's larger Sikorsky S-55 helicopter. While a Sikorsky-built pattern aircraft was flown by Westland in June 1951, converting the design to meet British standards (including the provision of a revised main-rotor gearbox), was time consuming, and the first prototype British aircraft, registered G-AMJT, powered by the 600 hp Pratt & Whitney R-1340-40 Wasp did not fly until August 1953. This was followed by ten Whirlwind HAR.1s, which entered service shortly afterwards. They served in non-combat roles, including search and rescue and communications functions. The HAR.3 had a larger 700 hp Wright R-1300-3 Cyclone 7 engine.
The performance of early versions was limited by the power of the American Wasp or Cyclone engines, and in 1955, the HAR.5, powered by the more powerful British power plant, the Alvis Leonides Major, flew for the first time. This was followed by the similarly powered HAS.7, which became the first British helicopter designed for anti-submarine warfare in the front-line when i
t entered service in 1957. It could either be equipped with a dipping Sonar for submarine detection or carry a torpedo, but could not carry both simultaneously, so sonar equipped "Hunters" were used to direct torpedo armed "Killers". The HAS.7 was powered by a 750 hp (560 kW) Alvis Leonides Major 755/1 radial engine. It had a hovering ceiling at 9,400 ft (2,900 m) and a range of 334 miles at 86 mph.
Later in their lives, some HAS.7s were converted to use the Rolls-Royce Gnome turboshaft engine, as the HAR.9.
After entering service with the Royal Navy, the Whirlwind came to be used by the British Army and Royal Air Force. More than 400 Whirlwinds were built, of which nearly 100 were exported to foreign customers. The French Navy received 37 Whirlwind HAR.2 between 1954 and 1957.