The Xian Y-7 (Chinese: 运-7; pinyin: Yun-7) is a transport aircraft designed and built in the Peoples Republic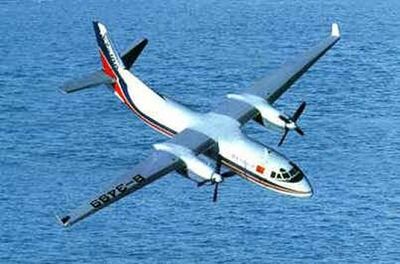 of China. It is based on the Soviet-designed Antonov An-24 series.
Development
[
]
The People's Republic of China imported the Antonov An-24 from early in its production run and also negotiated licences for production of the aircraft and its engines. In 1966, Xi'an aircraft factory started the project of local production of An-24. The first Chinese-assembled An-24T had its maiden flight on 25 December 1970. Production was launched in 1977 at the Xi'an aircraft factory but progress was slow due to the deleterious effects of the Cultural Revolution, with a pre-production aircraft displayed to the public at Nanyuan air base, near Beijing, on 17 April 1982. WJ-5A1 turboprop engine was chosen as Y-7's power source. The first production aircraft was not flown until February 1984, illustrating the slow progress (eighteen years from licence to production).
The Chinese aircraft equated to the An-24RV, having a full complement of windows and the booster jet engine. The majority of early deliveries were to the Peoples Liberation Army Air Force (PLAAF), mostly as transports, with a few in 52-seat airliner configuration for the Civil Aviation Administration of China (CAAC). After the initial licenced production run the Y-7 was developed separately from the An-24 with a succession of upgrades culminating in the MA60 (Modern Ark) series.
A tactical transport derivative was copied, un-licenced, from the Antonov An-26 and emerged as the Y-7H, incorporating the cargo ramp door and military equipment of the An-26.