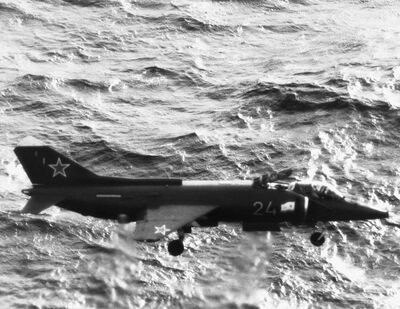 The Yakovlev Yak-38 (Russian: Яковлев Як-38, NATO codename: "Forger"), was the first VTOL aircraft of the Soviet Union. It was designed to be operated from Kiev class aircraft carriers.
History
[
]
The Yak-38 was based on the technology demonstrator Yak-36, known to NATO as 'Freehand'. After its success it was decided to stop further production of Moskva class helicopter carriers and the Kiev class was preferred instead.
The project began in 1967, and the aircraft was designated Yak-36M. The basic requirements were a maximum speed of 1400 km/h, a payload of 1000 kg and a range of 700 km. In the same timeframe construction of the first prototype and the first mock-up was begun. The first prototype, called VM-01, was completed on 14th April 1970. Despite of many similarities to the British Harrier, it had a
completely different configuration. The Yak-38 was first flown on 22nd September 1970 by Valentin Grigoryevitsh Muchin; Russian: Валентин Григорьевич Мухин. First testing showed some stability problems in roll axis, to fix this problem the engineers modified the engines on the wingtips, so that it was possible to move the thrust up and down. In October 1970 the modified (extended nose) second prototype was finished and at the end of the year 1970 the first flight (this time with conventional take-off and landing) of a Yak-36M took place. On 13th July 1971, testing by manufacturer was finished and by then they were handed in for additional acceptance testing. The first aircraft of the trainer version Yak-38U was completed in November 1974. In December 1974 the Yak-36M was officially accepted and production could begin. VTOL testing on aircraft carriers was made in 1975.
Production started in May 1974; and unfortunately one of the first built aircraft crashed on 4th April 1975 because of an engine fault. On 11th August 1976 the former Yak-36M entered operational status under the new specification Yak-38. About 231 aircraft were built. Those were based on the four Kiev class carriers.
Missions in Afghanistan showed the weaknesses of the design in terms of unacceptable Hot-and-High abilities and a too low payload. So that in August 1981, it was decided to upgrade the whole design and the requirements on the new variant were finished in October 1982. In November 1982 flight testing was begun. In the middle of the year 1983 testing was finished and production began in 1984. So that the new Yak-38M with a more powerful main engine and optional external fuel tanks entered service. After 50 built aircraft production was stopped in 1988 and in the middle of the 1990s the Kiev carriers with all their Yak-38 were retired from service.